SAMPLE SUMMER CAMP PROGRAM
Canada Summer Camp Program is an educational and fun introductory course on the culture and tourism in Canada. During The Summer Camp Program, participants will take "English as Second Language (ESL)" classes conducted by prestigious institutions in Canada for which they would receive Certificate of Completion afterwards. They will also have a taste of Canadian everyday life with their homestay parents.
Aside from the ESL classes, participants will also engage in fun outdoor activities such as golfing, canoeing, kayaking, and horse-back riding during summer. They will also visit famous landmarks in Canada during the City Tour.
The Summer Camp Program will be held either in the British Columbia region (Vancouver, Okanagan or Kamloops) or in the Ontario area so participants will enjoy the best of natural scenery. Canada is known for being one of the best places to work, live, study and travel, and this 8-day trip will definitely get participants a taste of this reality.

PROGRAM DETAILS:


Program Duration
11 days (including travel time)
ESL Certificate Programs
The ESL Program aims to improve the conversational and writing skills of the participants using the English language. The Program is conducted by native speakers and the course outline used is prepared by accredited Canadian institutions.
Cultural Orientation & Homestay with a Canadian Family
There is no better way to experience daily life and be immersed in Canada's unique culture other than by staying with a Canadian family and taking part in their daily activities. Through the Homestay Program during the entire duration of the event, participants will learn the intricacies of the "multicultural culture" of Canada, being an immigrant country from time immemorial.
Career Night
Improve your English language academic writing and oral presentation skills in preparation for University.
Outline course prepared by Thompson Rivers University, an accredited institution of Canada.
Introduce Canadian culture and North American way of life to Indonesian students.
Each student is an ambassador for Indonesia.
Summer Outdoor Activities and Tours
Golfing, Horseback riding, Canoeing, Visits to famous tourist destination sites and Campus visits Discussion about emerging careers in North America and academic pathways to some career opportunities.
2011 Summer Camp - Activities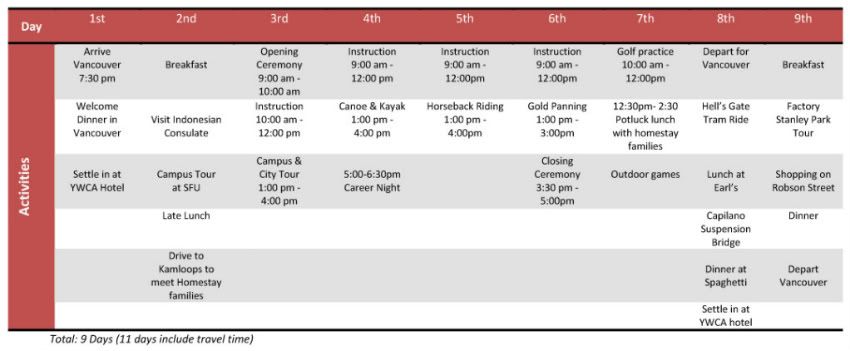 NOTEe:
China Airlines
Schedule of Departures:
1. June 12, 2011
2. June 19, 2011
3. July 03, 2011
Program Cost:
USD 3,600
Special Promo:
1. BCA - Credit Card
- Discount USD100 for first 50 register!!!
- BCA Credit card holders can avail of 6 months 0% interest installment
2. ANZ - Credit Card
- ANZ Credit card holders can avail of 3 or 6 months 0% interest installment.
- Free Application Visa fee IDR875,000
- Free Study in Canada Administration fee CAD150
Note:
- June 12, 2011 - "Last Few Seats - Register Now!!".
- June 19, 2011 and July 03, 2011 - Full booked,

we will arrange another group if the number of participant meet the requirement.
- Activities/Schedule may change depending on actual weather conditions.
Click here to view ESL Program Location (Thompson Rivers University)